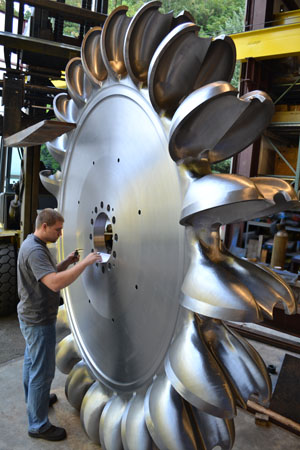 This one-piece replacement runner is 3.4 meters (11.25 feet) diameter, and was machined on Canyon's 7-axis CNC mill. Canyon engineer Mike Hansen checks tolerances on the mounting holes to align with existing equipment.
Canyon Hydro has the expertise and machinery to repair, rebuild, or replace your existing hydropower components. From individual parts to the replacement of the entire water-to-wire package, Canyon has the ability to deliver exactly what you need, within the dimensional constraints of your existing facilities.
Canyon services include:

Weld-build restoration


Replacement runners


Wicket gates, wear rings, nozzles


Full turbine machining


Onsite machining and line boring


This replacement mounting pin for a Pelton runner was manufactured by Canyon Hydro. The pin measures about 300mm (12 inches) long.
All major turbine components can be repaired or replaced by Canyon, including runners, nozzles, wicket gates, and wear rings. Canyon also provides onsite services, including precision line boring.
Three-dimensional models are created from CAD drawings, laying the groundwork for patterns and castings. Runner castings are tightly controlled, following rigid specifications for alloys, chills, core assemblies, and other requirements. Before the runner is released for final machining and balancing, it undergoes non-destructive testing and heat treating.
Canyon Hydro maintains an impressive array of high capacity, precision machinery, both conventional and CNC-controlled. We've recently doubled the capacity at our dedicated CNC facility. Our largest CNC mill is a 7-axis machine able to accommodate components up to 3 meters (16 feet) diameter, 11 meters (36 feet) long, weighing up to 15 tons.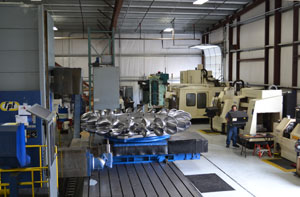 Canyon's CNC Center provides a broad array of precision machining capabilities, including the large-capacity CNC mill at left.
For more information about Canyon's machining abilities, see our table of maximum capacities.
Our goal at Canyon Hydro is to build replacement components that deliver more power and last longer than your originals. Please contact us if you would like more information or a quote.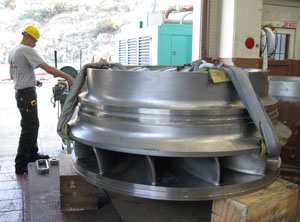 Canyon Hydro refurbished this 50MW Francis runner, shown at the project site in California ready for installation.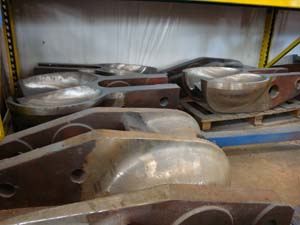 Refurbished buckets for a 25MW Pelton runner in Puerto Rico. The bucket on the pallet provides insight about the size of the runner.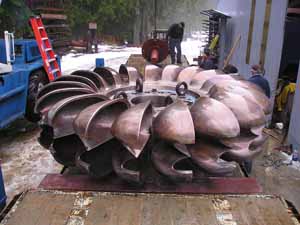 Runner rebuild for a 67MW system in Alaska. Runner is 3 meters diameter (about 10 feet). Weight is 9,525 kilograms (21,000 pounds).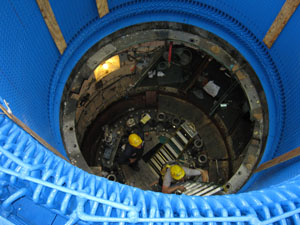 Canyon technicians working below the generator stator, readying the system for the refurbished 50MW Francis runner shown above.
Learn more about...